Technology has taken over almost all industries today. No matter how carefully you put the guidelines in place, there are somethings bound to slip out. MinoEYE Beta v1.0 provides you assistance in maintaining PPE compliance and ensure all safety measures are well in function. Research indicates that 81% of respondents agree that AI increases accuracy in identifying potential dangers and helps the company make better profits. Also, you do not need to monitor the situations manually or appoint workers for the same. It reduces your burden and responsibility and makes surveillance much more accessible.
At once, it might appear an unnecessary investment. However, we have explained in the further sections, how video surveillance ensures a safe working environment.
Why is safety important?
Providing a safe workplace environment is one of the integral duties of the mining business. Stricter legislation and implementation by the government has set the right tone on the safety issue. Typically, workers all across sectors have a right to a safe working environment; however, for some, it becomes an acute necessity.
Particularly in industries like construction, laboratories, and mining, threats appear at every step of working. These are the professions that are inherently hazardous and therefore, require added attention to maintain the security of the workers.
PPE stands for personal protection equipment. These equipment are designed for the workers to prevent them from any sort of injuries and fatal conditions. PPE is not only crucial for the workers, but its failure also impacts the business and its efficiency. Therefore, PPE compliance doesn't only restrict its importance to the employees but the owners as well.
Studies suggest that workplace injuries result in hefty indirect costs on the company. For instance, 80% of the respondents have agreed that they lose on their company's productivity, while 69% have stated that it negatively impacts their business opportunities as well. Therefore, Digital Mines offer a chance to restrain your company from getting into preventive losses.
How do Video Surveillance and AI help?
Get alert notifications
Adequate safety measures at the workplace should always be the highest priority of any business, especially when the activity in itself is deemed hazardous status, like laboratories, construction, mining, etc. AIinMining assists one in monitoring if the workers are using proper personal protection equipment.
If there are any workers identified without PPE safety, the device will start generating alerts and alarms. It verifies a worker's PPE inventory and identifies for any damage or incorrect wearing. It also issues warnings, advice, or even restricts access in real-time.
Data visualizations tools
The device uses data visualization tools that help the safety officers to recognize any current or potential security issues. The tools can be easily installed in your existing standard CCTV cameras using the RTSP protocol. These are designed to analyze a vast range of camera feeds.
Its Machine Vision allows the device to see in dim light on the working site to remove any chances of ignorance of safety. It also possesses a resolution quality that can easily differentiate between objects.
Identifies a range of situations
Advanced VideoAI technology is designed to process several CCTV videos at the same time. It comes with ever-evolving machine learning filters which are trained to identify a massive range of violations and enhance PPE compliance.
For instance, any safety zone violations taking place gets immediately intimated to the safety officers. Along with this, any violations with the improper wearing of personal protection equipment like safety vests, hard hat, and protective eyewear can be keenly monitored and prevented.
See it in action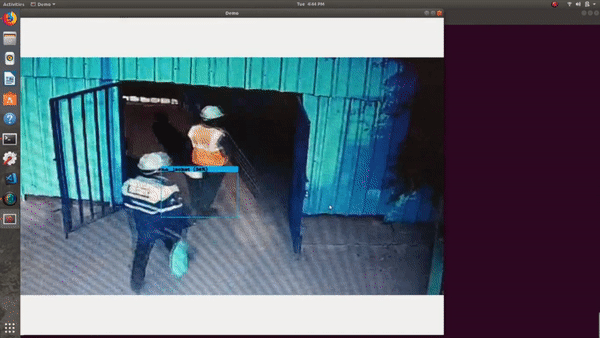 As you can see in the video, the AI system automatically detects if the person is wearing the Hardhat and the jacket. The alerts or reports can be generated and used as per the requirement of the industry.
More often than not, there can be seen instances of crowding and conflicts among the workers. Minocular proves very efficient in regulating such situations. It quickly notices any unusual and abnormal behavior among the workers and notifies the safety officers. It helps them to take suitable actions and prevent occurrences of any mishappenings.